Bio Richard Delaney
Richard is fully bilingual, having grown up and being educated in Germany, England and Ireland. Following a BA from Edinburgh University and a Diploma in Law from BPP Law School, London, he was called to the Bar of England and Wales at Lincoln's Inn.

After a year working in the German offices of the English Law Firm Travers Smith, he started working as a legal translator, and qualified as a Business Translator at the Berlin Chamber of Industry and Commerce (IHK Wirtschaftsübersetzer).
He also studied for and obtained a Diploma in Arbitration from University College Dublin, and a qualification in Mediation from the Open College Network.
Alongside his translation work, he worked as a freelance advocate and appeared in County Courts across England and Wales, predominantly in London and the East Anglia area, as well as teaching courses on translation and legal language.
From 2008 to 2013 he was involved in setting up, organising and teaching an MA in Legal Translation at City University, London.
As an experienced translator and lecturer, and with his legal background, his first and foremost aim is to ensure the absolute accuracy of any given translation, while aiming to also provide an idiomatic rendering where possible, and to provide seminars at the highest level.
He is a fellow of the Chartered Institute of Linguists, a Chartered Linguist in the categories of translation and education, a full member of the German professional translators' association, the BDÜ, an associate of the Institute of Translation & Interpreting and a member of the Deutsch-Britische Juristenvereinigung e.V. [the German-Britisch Jurists association].
Publications and conferences
Specialisation and Theory in teaching Legal Translation

2011 published in the conference proceedings of the 1st International Conference on Law Translation and Culture

In mehreren Rechtssystemen zu Hause

(at home in various legal systems) 2010, MDÜ, the magazine of the German Professional Translators' and Interpreters Association BDÜ). Leading article in an issue dedicated to legal translation.

The Translator's Copyright;

The Translator as Writer- 2009 Portsmouth Translation Conference. Published in Conference Proceedings

Specialising in legal translation - City University's MA in Legal Translation as a case study

; paper given at the conference "Interpreting the Future" in Berlin, 11 -13 September 2009, published in Tagungsband - Übersetzen in die Zukunft, edited by W. Baur, S. Kalina, F. Mayer, J. Witzel, Berlin, 2009, ISBN 9783938430248

A translator's liability

; published in the ITI Bulletin, May-June 2009

Montreal Convention

, Edited by: Elmar Giemulla, Ronald Schmid, Wolf Muller-Rostin, Regula Dettling-Ott, Rod Margo, Imprint: Kluwer Law International, December 2006, 478 pages (translator)

Memberships
"Bundesverband der Dolmetscher und Übersetzer" www.bdue.de
The Chartered Institute of Linguists
The Institute of Translation & Interpreting (ITI)
The German Association of Professional Experts DGSV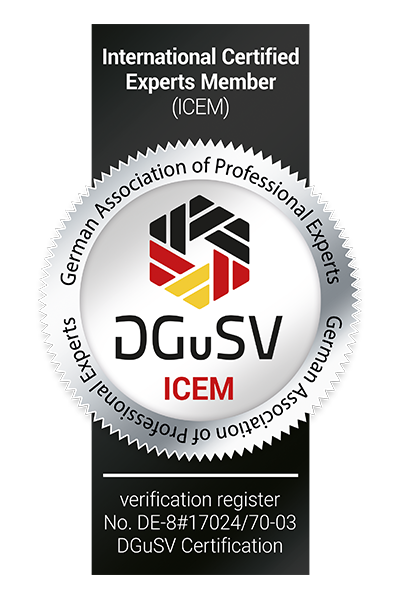 German-British Jurists Association
The European Legal English Teachers' Association
The Honourable Society of Lincoln's Inn
Other professional profiles online:

View Richard Delaney FCIL CL's profile